[ad_1]

Members of the United Truckers Association voted unanimously on Friday in favour of labour action.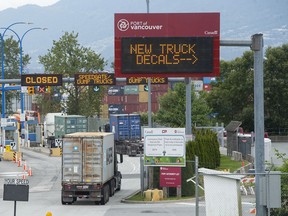 Article content
Port of Vancouver truckers will delay job action for the month of July in a bid to continue negotiations with the port and the federal government, the union said Tuesday morning.
Article content
On Friday, 639 members of the United Truckers Association voted unanimously in favour of labour action against a recent Port of Vancouver directive that forbids operators from driving vehicles more than 12 years old.
The truckers are upset about the Rolling Truck Age Program, which is set to begin on Sept. 15 and will affect about 20 per cent of the 1,800 trucks that haul containers to and from the ports in a bid to reduce emissions.
The union has said 360 drivers will need to buy a new or lightly used truck, which can cost more than $200,000.
Members, however, have pledged to keep the month of July open for potential negotiations before taking action, according to union spokesperson Gagan Singh.
"While the overwhelming will of our members is now evident, we continue to hold out hope to achieve meaningful exchange and resolution together with the Port of Vancouver and the Government of Canada," Singh said in a statement on Tuesday.
"The UTA will only move forward with our shutdown in August should the current plan proceed without mitigation."
Singh said federal Transport Minister Omar Alghabra has not responded to their concerns in five months. He said for the country's economic recovery from COVID-19 to continue without additional disruption to the supply chain, the minister "is going to have to offer a different approach in the coming weeks."
The union plans to announce the type of labour action it will take closer to August.
The Rolling Truck Age Program has been on the port's agenda since 2012. In 2015, the port told drivers that the program would go into effect in February 2022.
The program's goal is to reduce greenhouse gas emissions, which are causing global heating.
In early June, the port announced consultation was complete, some concessions were made, and the program would go ahead. The port's decision is backed by the B.C. Trucking Association.
According to the port, about 80 per cent of trucks serving the port are already compliant.
—with files from Glenda Luymes
[ad_2]

Source link