[ad_1]

Trucking news and briefs for Thursday, July 14, 2022:
Truck drivers protest AB 5 at California ports
Owner-operators working the California ports of Los Angeles, Long Beach and Oakland halted normal business operations Wednesday to protest the state's AB 5 law that, after the Supreme Court declined last month to hear the case, will effectively do away with the traditional leased owner-operator model in the state.
After SCOTUS' decision to not hear the case, it is being sent back down to the Ninth Circuit Court of Appeals, where the trucking industry's injunction will be lifted. It's unclear exactly when that will occur.
The Port of Los Angeles estimated that there were about 100 truck drivers participating in Wednesday's protest, and a small number continued to demonstrate on Thursday. Rachel Campbell, media relations manager for the Port of LA, said there were no disruptions to port operations as a result of the protests there. It's unclear as of publication time Thursday if the protests caused disruptions at the Port of Long Beach.
"Los Angeles Port Police will assist in making sure all parties are able to express their First Amendment rights while also making sure the port continues to operate safely and commerce continues to flow," Campbell added in a statement.
Video posted to the United Truckers Facebook page showed a contingent of truck drivers parked in the travel lanes of I-710 near the Port of Long Beach, blocking the interstate. According to a report from NBC Los Angeles, the protest in Los Angeles spilled out onto the 110 freeway and slowed traffic.  
According to Harbor Trucking Association President and CEO Matt Schrap, the protesting owner-operators feel that AB 5 is "a direct threat to their livelihoods."
[Related: AB 5 contractor law: California small fleets, owner-ops take stock]
"The frustration with the total lack of regard by the state of California for a business model that has provided thousands of men and women an opportunity to build and grow a business is now blatantly obvious," Schrap said. "Unfortunately, it didn't matter how many independent drivers stood up and expressed concerns during the legislative process for AB 5 in 2019. They were basically ignored and essentially told by the governor and the legislature what was best for them and their families."
Schrap added that with so many questions still surrounding the law and how it will be applied, "it is no wonder why these truckers have taken matters into their own hands."
Echoing a call from the Owner-Operator Independent Drivers Association, Schrap said direct guidance from California is needed to help owner-operators and fleets understand how the law will be enforced.
"What is also clear and contrary to what has been perpetuated by the author of AB 5 and its ardent supports, is the fact that most, if not all, independent drivers do not want to be employees," he added. "They want to remain independent, but the state has provided zero guidance in how to legally do so. Bottom line, California has basically tossed these drivers and their dreams aside for the sake of political expediency in order to satisfy the wants and desires of special interests."
The International Brotherhood of Teamsters is one group pleased with the outcome of AB 5, calling it "a significant victory in the Teamsters' decades-long battle against misclassification in trucking," said Jason Rabinowitz, president of Teamsters Joint Council 7.
[Related: Supreme Court will not hear trucking's AB 5 case]
Small fleet-focused TMS adds factoring partnership, special offer
Factoring company Orange Commercial Credit has launched an interface partnership with Lynks TMS, a small-fleet-focused management system. The new partnership will allow OCC clients to easily digitally generate invoices with Lynks and submit loads for factoring.  
As an introductory promotional offering through September 30, 2022, OCC clients will receive a complimentary one-year subscription to Lynks TMS. The offer includes two back-office users (a $49.95 per month, per user value). If needed, additional driver users can be added at $15 per month.  OCC clients can contact Lynks TMS directly via this link for a demo and to claim the subscription.

The Lynks TMS is "cutting edge mobile technology," said Andrea Rogers, OCC's marketing VP. Lynks CEO Greg Johnson noted that it's a "complete mobile TMS platform" that "goes beyond mere dispatch to provide ultimate visibility into your operations. We designed it to help growing, smaller companies take the next step forward, and to provide established companies with an easy-to-implement tool that offers exceptional value."
[Related: Trucking 'The Big Road' with new podcast, small fleet TMS for back-office/on-highway management]
Landstar announces 142 new Million Mile Safe Drivers and Roadstar honorees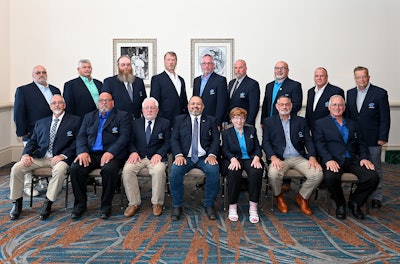 Landstar honored its best and safest independent owner-operators earlier this month at the 2022 Landstar BCO All-Star Celebration.
During the event, Landstar inducted the newest class of Million Mile Safe Drivers and Roadstar honorees. The Class of 2021 is comprised of 112 new One Million Mile Safe Drivers, nine new Two Million Mile Safe Drivers and five new Three Million Mile Safe Drivers. Each of the owner-operators has driven at least one million consecutive miles with Landstar without a preventable accident.
Of Landstar's more than 1,100 active Million Mile Safe Drivers, including those inducted in this class, 16 individuals were recognized for earning the Roadstar distinction, among the highest honors for owner-operators awarded to the "best of the best" at the company for their high levels of safety, productivity and excellence in customer service.
Landstar began presenting the Roadstar award in 1990. Currently, there are 172 active Roadstar honorees.
"Landstar is proud to recognize these 142 independent owner-operators for their safety records and professionalism behind the wheel. Their skill and dedication to their profession make the roads safer for all of us," said Landstar President and CEO Jim Gattoni. "Landstar Roadstar honorees raise the bar for the entire trucking industry and their dedication to service excellence has earned them the right to be called the most elite independent owner-operators at Landstar."
Landstar's Class of 2021 Roadstar honorees are: Esther Bell, Austin Bump, Dennis Fuss, Victor Gomez, Fred Green, Ronnie Haddan, Robert Hail Jr., Charles Jones, Billy Martin, Jeffrey Mikel, Anthony Mitchell, Paul Nickles, Ron Shaw, Jon Treptow, Craig Williams and Dariusz Ziemrowski.
The full list of owner-operators recognized can be found here.
Love's opens five new Speedco locations
Love's Travel Stops announced this week it has opened five new Speedco locations that are open 24/7.
The locations offer tire, lube and light mechanical services, as well as DOT inspections, for professional drivers and fleets. Truck drivers can stop at more than 430 locations across the country for their needs.
"With more than 1,500 maintenance bays and 430 locations, Love's has the most expansive truck care network on the highway," said Gary Price, executive vice president of total truck solutions for Love's. "Our goal is to get professional truck drivers back on the road quickly and we'll continue to add locations and services to meet that goal."
The newest Speedco locations are:
57964 188th Street, Pacific Junction, IA 51561
8708 Crossing Drive, Rockville, MN 56301
1262 Route 414, Waterloo, NY 13165
1601 East Evergreen Street, Cameron, MO 64429
6201 Shortman Road, Ripley, NY 14775
[ad_2]

Source link