[ad_1]

Inflation reached a new 40-year high in June, according to data released Wednesday by the U.S. Bureau of Labor Statistics, with the Consumer Price Index (CPI) soaring to 9.1%.
Experts had widely expected 8.8% but prices climbed 1.3% from May, marking the fastest pace of inflation since the end of November 1981, and the largest monthly increase in 17 years. 
The increase was broad-based, with the indexes for gasoline, housing and food being the largest contributors. The energy index rose 7.5% over the month and contributed to nearly half of the all items increase, with the gasoline index rising 11.2% and the other major component indexes also rising. The food index rose 1% in June, as did the food-at-home index. 
The Core CPI, which excludes food and energy, which traditionally are volatile, jumped 5.9% in June, compared to 6% the month before. A 5.7% increase was expected. 
"Looking at food and gasoline prices, weighted by the spending weights, we see that June was a rough month with a 4.4% monthly gain and a 27.5% year-over-year gain," noted Jason Miller, associate professor of logistics in the Department of Supply Chain Management at Michigan State University's Eli Broad College of Business. "I continue to believe this combination, which I term a grocery store trip price index – since folks buy food at home and then fill up their vehicles – is closer to what people believe inflation is. The good news is the rate of increase should slow substantially given July's gas prices are lower and we are starting to see commodity prices for agricultural products come down, though this will take many months to work through the value chain."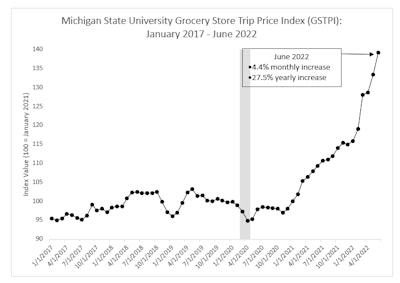 Dean Croke, industry analyst at DAT Freight & Analytics, added that while inflation is obviously concerning for shippers and consumers, truckers and fleets have been dealing with unstable prices for diesel and other running costs for months.
"This time last year, the operating profit for long-haul owner-operators would have been around 31 cents a mile," he said. "Today, it's negative 35 cents a mile assuming all other costs and utilization metrics remain unchanged. Reducing empty miles and controlling your costs are essential, especially for smaller fleets and owner-operators."
Food
The food index increased 1% in June following a 1.2% increase in May. The index for food-at-home also rose 1% percent in June – its sixth consecutive increase of at least 1%. Five of the six major grocery store food group indexes rose in June. The index for other food-at-home rose 1.8%. The only major grocery group index to decline in June was the index for meats, poultry, fish and eggs, which fell 0.4% over the month as the indexes for beef and pork declined. The food-at-home index rose 12.2% over the last 12 months, the largest 12-month increase since the period ending April 1979.
The food-away-from-home index rose 0.9% in June after rising 0.7% in May and has climbed 7.7% over the last year – the largest 12-month change since the period ending November 1981. 
Energy and gas 
On the heels of record high gas prices in June, (according to EIA), the energy index increased 7.5% after rising 3.9% in May. The gasoline index rose 11.2% in June after increasing 4.1% in May. The energy index rose 41.6% over the past 12 months, and the gasoline index increased 59.9% over the span – the largest 12-month increase in that index since March 1980. 
Electricity didn't fare much better, increasing in June 1.7% and 13.7% over the past 12 months – the largest 12-month increase since the period ending April 2006.
Levels on trend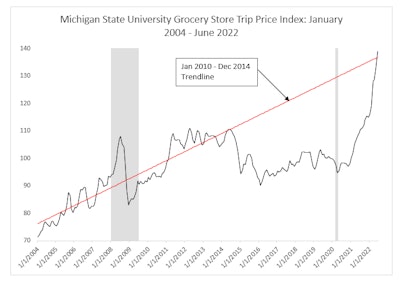 Despite massive increases in food-at-home and gasoline prices, Miller said from a longer-term perspective, prices today are actually where a 2010-2014 trend-line projected them to be.
"Consistent with this, if you look at the average weekly earnings of production and nonsupervisory personnel adjusted for inflation using the CPI, we see we aren't too far below the pre-COVID trend-line's predictions, and for many months was very elevated," he said. "You factor in stimulus efforts, this helps explain why spending on goods hasn't declined as much as many expect." 
The price for used vehicles ticked back up 1.6% on a seasonally adjusted basis from May, Miller noted, adding that this continues to suggest strong demand for motor vehicles. "Otherwise we should be seeing prices decline," he added. 
Additionally, Miller said there were no signs that steep discounts for items that major retailers were reported to be overstocked materialized.
"Furniture and bedding prices rose 1.1% in June from May. The price of audio and video equipment was relatively unchanged. The price of computers didn't change," he said. "This suggests, to me, the highly touted discounts aren't moving the inflation needle. This calls into serious questions some claims I've seen where the argument has been made that retailer discounts will result in deflation."
Flatbed market softening
Flatbed trends on the spot market are weakening, according to data compiled by DAT, while vans are holding steady. June is an important month for vans as retailers move inventory for the fall. 
Builder confidence in the market for newly-built single-family homes posted its sixth straight monthly decline in June, extending the slide of flatbed loads posted on DAT's load board network. The number of available loads has fallen 45% compared to four weeks ago. The flatbed ratio has declined each week since the week leading into Memorial Day and is the lowest ratio for the first full week of July in the last six years.
Flatbed spot rates fell more than 13 cents on Truckstop.com last week, the largest drop on record except for a week in April 2020 at the depths of the pandemic lockdowns.
Van segment holding steady
Dry van rates on DAT's Top 50 lanes by loads moved averaged $3.14 a mile last week – 43 cents better than the national average on its busiest lanes. The van ratio has increased every week for five weeks in a row. This is indicative of seasonal retail inventory moving during June, according to DAT.
The number of posted dry van loads was down almost 12% last week, which includes the July 4 holiday, and truck posts fell 18%. It's not unusual to see 20% declines in load and truck posts when comparing a holiday week to a full workweek.
[ad_2]

Source link